THE JOURNEY OF M.O.I.S.T.!

2007 --

M.O.I.S.T.!

debuts at the National Black Theatre Festival as a workshop production.

2008 --

M.O.I.S.T!

is optioned to open Off-Broadway...but the economy tanks and the funding is lost.
2009 -- Mariann Aalda & Iona Morris cash in their 401k's to form Al & Mo Productions to produce the show themselves...with A LOT of help from their

wonderfully talented and supportive friends

who worked for A LOT less than their normal rate.

2009 --

M.O.I.S.T.!

opens at Open Stage West in Sherman Oaks, CA, to rave reviews & packed houses.

2010 --

M.O.I.S.T.! is picked up by LA's historic Hayworth Theatre...9-month run & more rave reviews and packed houses!
2011 --

M.O.I.S.T.!

is invited back to the National Black Theatre Festival (this time, as a Main Stage production), where -- at the insistence of NEC Artistic Director, Charles Weldon, who had seen the show in Los Angeles -- it was seen by NEC Executive Director & Tony-nominated playwright, Leslie Lee, who heralded it as "smart, funny, edgy, engaging...and worthy of an NEC production."

TODAY -- We are looking to the festival circuit and franchising the show.


WINSTON-SALEM CHRONICLE Aug 1, 2011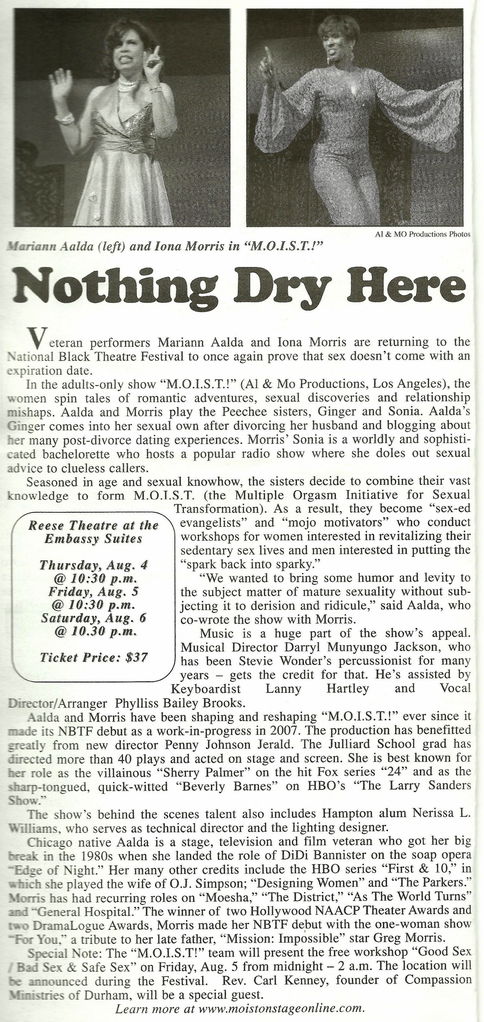 Click below to watch a brief video of clips from the first LA production and
hear what audiences had to say...


---
Conceived as a celebratory entertainment vehicle, M.O.I.S.T.! also has a serious social agenda, because sex is a hot-button topic that often elicits shame, embarrassment and disapproval. Therefore, candid discussion is a major component to the work -- whether it be lively conversation with friends over drinks after the show; follow-up bedroom pillow-talk, or honest sharing in a public forum.

When is the right time for the first time?
Is there a difference between having sex and making love?
What's GOD got to do with it? A discussion of sex within a religious & spiritual context.
Safety First! Heterosexual teens, women of color and those over the age of 50 have been identified as increasingly high-risk for HIV/AIDS. This is a discussion of risky sexual behavior and how to comfortably broach the subject of safe sex with your partner.
---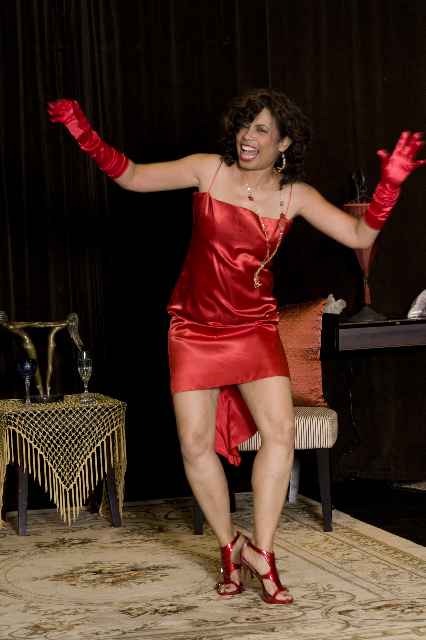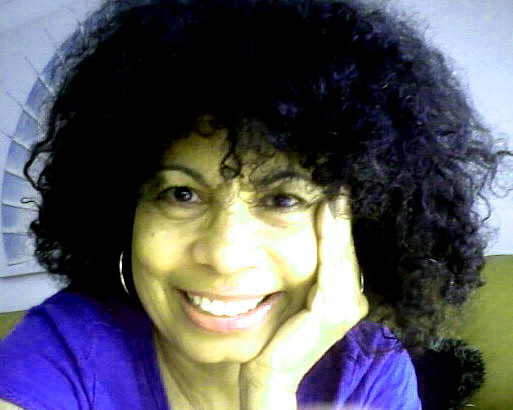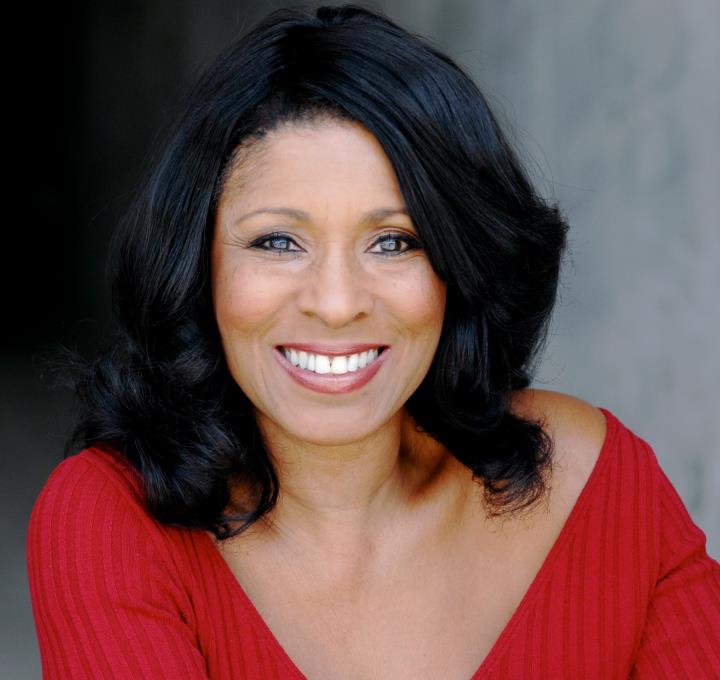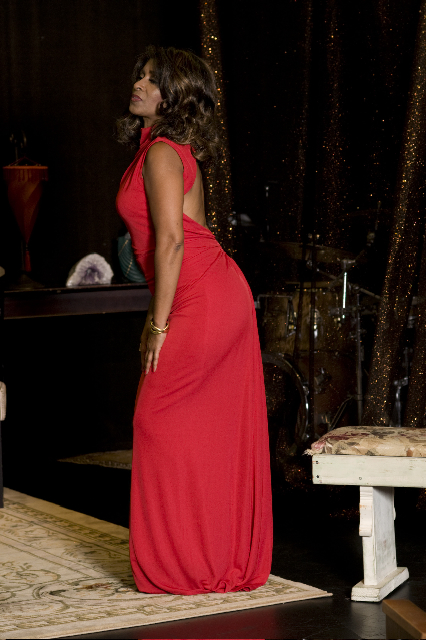 Additional Reviews...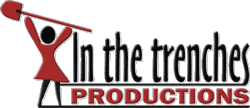 "...sexy, intelligent and fun, fun, fun...all us ladies of a certain age exit the building with smiles on our faces and in out hearts, knowing that our sexy selves were not gone, not by a long shot!"

- Judith Drake, In The Trenches Productions

Click on LogoAbove for Full Review!!!

"The humor is inventive and smart...but there are moments in this work that are so exquisitely poetic they approach beauty...
Smart social commentary mixed with deeply personal introspection thus rebukes our youth-obsessed culture, reminding the true connoisseur of sensuality that experience and virtuosity will always trump taut skin and gravitational fortitude."
- Trevor Thomas, EDGE Southwest Editor 10/1/09
Click on Icon Below for the Full Review!!!

"'MOIST!' takes off where Sex and the City, and the Vagina Monologues began. For chicks and significant others, this show is sure to seduce and whet one's appetite for what promises to be an evening of pleasure..."

- Bonnie Priever, Reviewer TOLUCAN TIMES
Click on Icon Below for the Full Review!!!

"...full of mirthfulness and a decidedly playful attitude towards love and lust...
Mariann Aalda and Iona Morris drench the stage in M.O.I.S.T.!" -JESTHER ENTERTAINMENT
Click Below for the Full Review!!!
Culture, Cinema, Stage, Sounds, LifeStyle
"...M.O.I.S.T.! advocates and affirms over-50 female sexuality instead of mocking it...amusing, poignant...in your face..."
Click Below for the Full Review!!!
It all started with this 2007 workshop productionat the
National Black Theatre Festival...


...and

THE BEST

is yet to come!